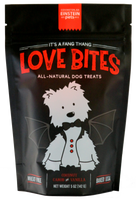 LOVE BITES 🧛‍♂️
We're Back... Love Bites! 🦇 Wishing you and your pup a spooky Halloween filled with lots and lots of Einstein treats! 👻 Yummy!
Fangs for the memories. ⚰️


IT'S A FANG THANG!
Your Market Tote
Everyone deserves a fresh new tote!
Get your Farmers Market Tote, Grocery Recycled Tote, Reusable Shopping Bag today- While supplies last! 🧑‍🌾
18-3/4"W x 13"H | 12"W x 6-5/8"D
Market Tote
The Everydays
What better way to reward dogs for their unconditional love than through healthy, delicious natural dog treats! 
The Everydays Collection are award-winning recipes, oven-baked, crunchy, nutritional treats to add to your pups every day treat experience. 
We have created a collection of premium healthy dog treats. We understand how important health and nutrition are for dogs. That is why our treats contain only premium ingredients, corn-, soy-, and wheat free. No artificial flavors of anything! :-)
SHOP NOW
FREEZE-DRIED
Our Trainers are made with only a SINGLE INGREDIENT -- wholesome, healthy, and 100% pure chicken breast! Finally, a treat your dog will beg for--or sit, speak, and stay for!
Each bite bursts with tasty goodness -- the possibilities are endless!
BUY NOW
Treats For A Cause
Einstein Pets is sending a message of hope to Ukraine with Peace, Love, Hope: Dog Treats For A Cause. 💙💛
We are commiting 100% of proceeds from the sale of Peace, Love, Hope dog treats to be donated to Ukraine pets.
SUPPORT UKRAINE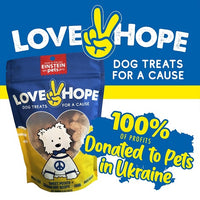 Pumpkin, Cinnamon & Honey (oh my!)🍁
Dogs LOVE us (And people do too!) Show your pup a little love with Einstein Pets: Pumpkin Time. 🎃
Farm fresh flavors, baked in small batches in the USA with the world's finest ingredients. Made with ❤️
Share with the ones you love. 
Get Your Bag Today!