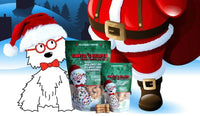 Dear Santa:
All I want is Santa's Helper and Ugly Sweater Party yummy treats. All day, everyday. 🎁
Happy Holidays! ☃️
Happy Howlidays!
'TIS THE SEASON
To be merry and bright. Let's make the 2023 Holiday Season the best one yet! 🎅 ❄️
This is your invitation to purchase one of our Ugly Sweater 5oz bags, filled with sweet cranberries, drizzled with honey, and sprinkled with the right amount of Cinnamon. Making it the yummiest treat for the holidays. Woof!!
ITS PARTY TIME! ⛄
Pumpkin, Cinnamon & Honey (oh my!)🍁
Dogs LOVE us (And people do too!) Show your pup a little love with Einstein Pets: Pumpkin Time. 🎃
Farm fresh flavors, baked in small batches in the USA with the world's finest ingredients. Made with ❤️
Share with the ones you love. 
Get Your Bag Today!
The Everydays
What better way to reward dogs for their unconditional love than through healthy, delicious natural dog treats! 
The Everydays Collection are award-winning recipes, oven-baked, crunchy, nutritional treats to add to your pups every day treat experience. 
We have created a collection of premium healthy dog treats. We understand how important health and nutrition are for dogs. That is why our treats contain only premium ingredients, corn-, soy-, and wheat free. No artificial flavors of anything! :-)
SHOP NOW
Your Market Tote
Everyone deserves a fresh new tote!
Get your Farmers Market Tote, Grocery Recycled Tote, Reusable Shopping Bag today- While supplies last! 🧑‍🌾
18-3/4"W x 13"H | 12"W x 6-5/8"D
Market Tote
FREEZE-DRIED
Our Trainers are made with only a SINGLE INGREDIENT -- wholesome, healthy, and 100% pure chicken breast! Finally, a treat your dog will beg for--or sit, speak, and stay for!
Each bite bursts with tasty goodness -- the possibilities are endless!
BUY NOW
Treats For A Cause
Einstein Pets is sending a message of hope to Ukraine with Peace, Love, Hope: Dog Treats For A Cause. 💙💛
We are commiting 100% of proceeds from the sale of Peace, Love, Hope dog treats to be donated to Ukraine pets.
SUPPORT UKRAINE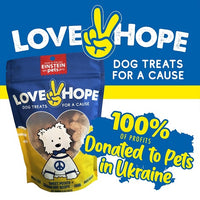 Lucky Dog! ☘️
Luck is believing you're lucky.🍀 ~Lucky Me
Get your bag of treats for your pup before they are gone!
Happy St. Patrick's Day 🎩💚
Lucky Charm 💚